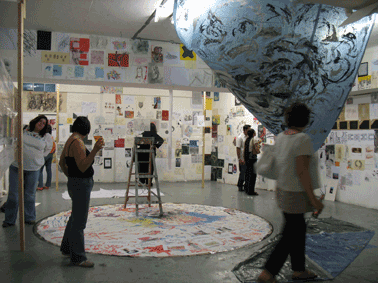 Hello everyone!!!!
I am finally starting the requested diary.
As you can imagine it has being a lot of work from day one of the project.
Works are still arriving and I am still putting the works up.
Today is the last day of the show.
Therefore I decided to start this page here in the gallery.
That is technology!! I am here on line wireless.
The first image is to show how the gallery has been changing throughout the week, if you compare with the original shots on the other page.
We had performances everyday that made the gallery change day by day, and still changing with people bringing works today.
This is just the first taste… I have to go and start to organize the performances…bye, for now.